Features Common to all Yard Ramp Models
All yard ramps shown on this website have the following features.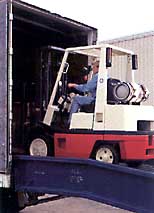 Six Foot Level Off
The six foot level off makes the trailer end loads more accessible. The additional six feet allows you to load or unload safely from a level position. The 15 inch tread plate lip extends into the trailer or over the dock edge for smooth transitions. The standard safety chains hold the yard ramp securely to the trailer or dock.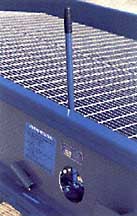 Double Acting Hydraulic Pump Engages Two Hydraulic Cylinders
The hydraulic system allows for smooth and quick raising of front lip to the proper dock or trailer height. Simply open the release valve to safely lower the unit into position. The pump is mounted internally to protect it from accidental damage.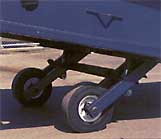 Strong Tubular Steel Box Undercarriage Assembly has 19 inch Solid Rubber Pneumatic Profile Tires for Easy Positioning.
Heavy duty wheels and solid rubber pneumatic profile tires make positioning the yard ramp easy. For stationary dock installations, standard yard ramps are available in 40 foot and 36 foot lengths without wheel assemblies at a reduced cost.

Serrated Traction Grating is Self Cleaning
Serrated grating provides excellent traction for forklifts. The open design prevents build up of water, snow, oil, grease, and miscellaneous debris. The lower end approach plate provides maximum support and smooth transition onto the ramp grating surface.
YardRamps.com
3904 South Arlington Avenue
Indianapolis, IN 46203-6170
Voice 317 788-3785 or 800 899-1648
Fax 317 788-3784