Yard Ramps Vs. Other Options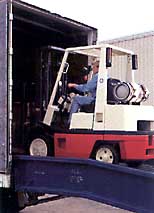 Dock operators who select yard ramps over other types receive many benefits. Lower cost and extended, long term durability means yard ramp is obviously the better value. The best way to improve operating efficiency is to utilize the portability of the yard ramp. It can be positioned anywhere. Unlike expensive concrete ramps, yard ramps are not permanently positioned. Never in the way or blocking off dock doors, it can be simply wheeled away to another trailer or dock door position. Concrete ramps crumble and deteriorate over time. The long term durability survives years of heavy use and makes it the best choice overall.
Alluminum ramps have a high price tag and are not nearly as durable or long lasting as these yard ramps. Aluminum is difficult to weld, and repairs can be both time consuming and expensive. Since any ramp must be positioned with a forklift, the weight differential between aluminum and steel is insignificant.
Moving the yard ramp to any trailer, rail car or dock saves valuable time and will dramatically improve dock efficiency. Yard ramp is the logical choice to solve high volume freight handling problems by increasing product handling options and capabilities.
The yard ramp time tested design is superior to concrete and aluminum ramp durabilities. When cost, long term durability and loading flexibility are paramount, choose yard ramp to deliver the best value.
YardRamps.com
3904 South Arlington Avenue
Indianapolis, IN 46203-6170
Voice 317 788-3785 or 800 899-1648
Fax 317 788-3784